How Much Will it Cost to Develop a Custom Software or App?
There are over 7 million apps for download in app stores, yet no two software projects are exact duplicates. They are each riddled with varying business and technology requirements, software complexities, integrations, scopes, and offerings.
So whether it's an app for a startup or an established company looking to penetrate the digital market, simplify their processes, or make a difference, the common denominator is the need for a dedicated custom software development firm.
But with the varying factors and requirements, it is often challenging to estimate the cost to develop an app accurately. Now, this is where this article can help.
It answers the question, "how much do apps cost?" and discusses the factors that affect these costs. You will also understand the average price to develop a software program based on the types.
Average Cost of Software Development
Most business owners want to determine how much it costs to develop an app, so they plan and budget accordingly. However, IT companies will not readily provide figures right off the bat without exhaustive conversations.
These conversations are to understand the factors that may affect the prices of the projects. The development company will then consider your requirements and objectives before arriving at an estimate to build a software program.
Of course, a small app with simple backend coding and little user interaction will be more affordable than its medium or complex counterparts requiring a connection to external systems or involving financial transactions.
From our experience at Scimus,
Building a simple app takes approximately 2-3 months to complete at $40,000 to $60,000.
A medium app, usually more complicated than a simple app, will take 3-6 months at $60,000 – $150,000.
For a complex app, the cost is upwards of $300,000 and will take more than nine months to build.
Note: Besides the scope or complexity of the app, the number of platforms the application will run on also affects the cost of custom software development. So, the cost of even a simple app that should run on the web, Android, and iOS, may rival that of complex apps.
| | | |
| --- | --- | --- |
| App Type | Estimate Cost | Time |
| Simple App Development | $40,000 to $60,000 | 2-3 months |
| Basic App Development | $60,000 to $150,000 | 3-6 months |
| Complex App Development | From $300,000 | 9+ months |
What Factors Influence the Software or App Development Prices?
The software cost differs depending on the app and UI/UX complexity and other significant factors, including:
1. Type of the app and its complexity
For simple apps that require no backend processing, the creation is usually straightforward, and the start-up costs for an app like that is less. Meanwhile, since complex apps demand more complicated algorithms, coding languages, and thorough backend processing, they will cost more.
So, the more interactions users' will make with your platform, the more exhaustive it will be. Also, simple apps don't require many customizations, unlike complex apps where developers write codes for every function on the app.
Plus, the more complex an app is, the more the team will have to test the app for bugs which ultimately translates to increased expenses.
2. Number of platforms
People spend about 90% of their online time on apps. So, there are increased chances of your target audiences being on any platforms – web, Android, and iOS. So, you may have to hire different development teams to offer web app development services, which will cost more.
While you may decide to cut these costs of creating an app by building a cross-platform app with the same codebase deployable on iOS and Android, it is only possible with an experienced development team and on only some products.
So, if you decide to go with individual native platforms, they will cost more since you can't reuse the app for iOS on an Android and vice versa
3. UX/UI design complexity
This cost factor is where you consider the custom fonts, buttons, animations, color palettes, images, and more. These graphic elements determine your customer satisfaction and their return rate after the first visit.
The development team, including the front-end developers and graphics designers, focuses on creating an easy-to-navigate platform without compromising aesthetics.
If users find the app visually pleasing and easy to operate, there will be an increased return rate. However, the more creative ideas and features you require, the more the average cost.
4. Backend infrastructure and connected APIs
Most times, apps that provide many features, like ride-hailing or ride-sharing apps, require intense backend processing and integration with other external systems.
These apps often require features like geolocation, payment options, and mapping, so the software engineering team will ensure that every user's data is protected on the backend.
While these features are impressive, they require more time or money, thus increasing the development cost, especially if you have to build the custom data-exchange API.
Want to develop a custom software solution?
5. Geographic location
The average hourly rate of developers in the US or Western Europe is $100. But you can get fees that don't cost so much from Eastern Europe, especially Ukraine, where you can get hourly rates of $45 without compromising on quality.
This means localities can significantly affect the cost of building an app and hiring software developers. You may also get cheaper rates from China and India, but you'll have to work around the cultural differences and time zones.
6. Mode of hiring
To estimate your software project cost, you can choose from these hiring options – fixed-rate, hourly rate, or dedicated team.
With the fixed rate option, you will pay the developers an agreed amount for particular requirements. Although this mode lets you know the cost of making an app, there is no allowance for adjustments during development.
You have room for requirement adjustment for the hourly-rate option since you will be paying for the people-hour and resources. However, this model does not give you the total cost and control of the development team.
Then there is the dedicated team, mainly for established startups. Here, the IT firm will give you dedicated developers to make your own app while you pay their salaries.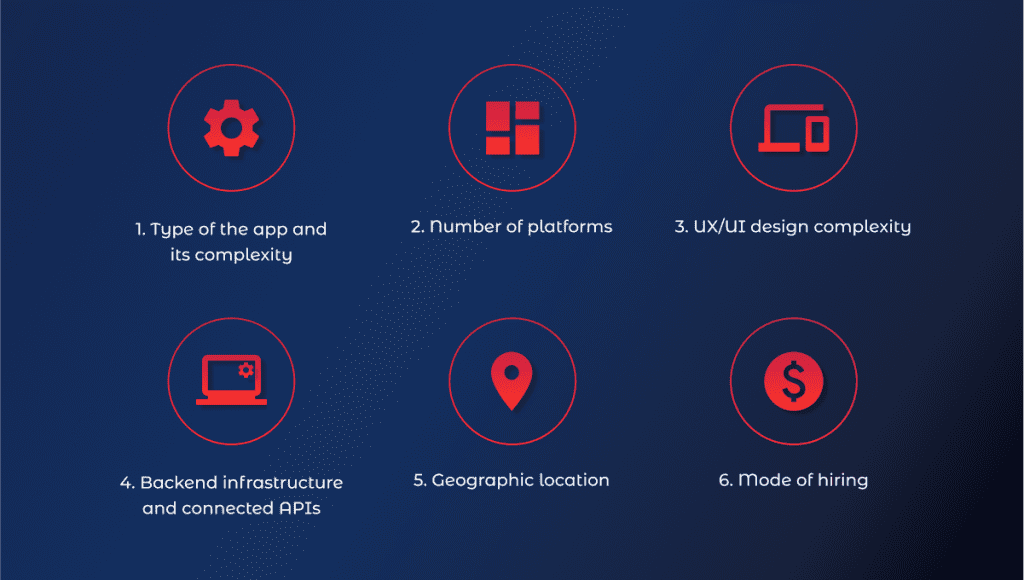 Other Things to Keep in Mind
Besides the factors we just discussed, there are still a few additional average app development costs, including:
Applicable fees for external integrations, like SMS or push notifications, geolocation, or payment gateways, can cost between $5,000 and $20,000 annually.
Management and marketing costs, like a content manager's salary at about $75,000-$150,000.
The cost of infrastructure, including the payment for the server and CDN, could cost about $15,000
Additional costs for app updates, fixing bugs, or making future developments.
Average Cost of App Development by Type (Examples)
Different apps are built daily, from mobile to iPhone, Android, web, startup, taxi, game, retail, and many more, with varying requirements and costs. Here are some of the most common app types, their development costs, and the required completion time.
| | | |
| --- | --- | --- |
| App Type | Estimate Cost | Time |
| Mobile App | $30,000-$300,000 | 1,200h |
| iPhone App | $55,000-$300,000 | 1,200h |
| Android App | $50,000-$300,000 | 1,200h |
| Web App | $60,000-$300,000 | 1,200h |
| Startup App | $40,000-$400,000 | 1,600h |
| Taxi App (Uber) | $50,000-$400,000 | 1,600h |
| Game App | $60,000-$250,000 | 1,600h |
| Retail App | $50,000-$150,000 | 1,200h |
| Augmented Reality App (AR) | $100,000-$250,000 | 1,600h |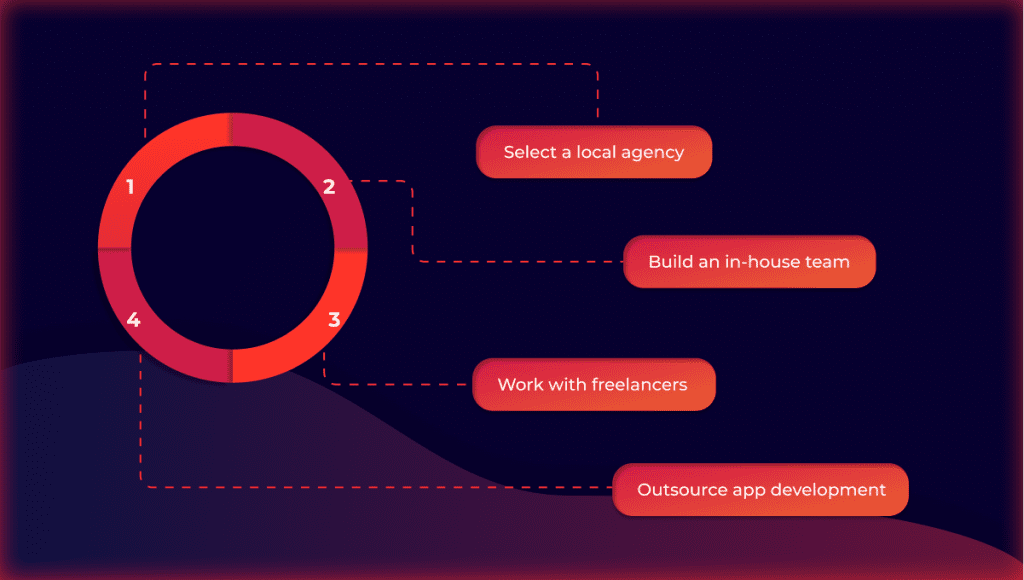 Budget Estimation Checklist to Calculate Software Development Costs
Here's a checklist to help you answer the question: "how much does app development cost?" The individual work models give you a rough estimation of the total cost with each option.
1. Select a local agency
You can hire a dedicated medium-sized local IT company that offers a comprehensive list of services, including search engine optimization.
The hourly rates of your development team depend on the country. For calculating software development costs in Ukraine at $45/ hr, a custom mobile app development project for 1,200 400 hours should cost about $54,000.
2. Build an in-house team
This option is for more complex projects for small companies.
It offers transparency and effective communication, but developing an application costs off the charts!
You may have to employ a full-stack developer at $98,000, a designer at $85,000, and an iOS or Android Developer at $85,000 annually.
3. Work with freelancers
Freelancers are best for small projects with a limited software development budget, whether you hire them on a contract or hourly basis.
Websites like Upwork, and Fiverr, have freelancers at different prices for software building depending on their country.
For the US, it's about $50/hr
Asia is $15 to $25 per hour
Ukraine is $25/hr
Latin America is $20/hr
4. Outsource app development
This is ideal for a large-scale and complex project, as it ensures a high-quality product, creativity, and effective communication.
Then again, estimating software development costs differ by country. For example, you can work with a development firm at $30/hour in Ukraine.
This could bring the total cost between $30,000 and $50,000, depending on the OS, MVP, features, type of app, UX/UI design, and APIs.
Want to develop a custom software solution?
Scimus Methodology of Project Cost Estimation
At Scimus, we understand there is no one-shoe-fits-all solution to creating a software program or developing an app. That is why we employ a systematic approach to estimating the exact costs of developing software.
We will schedule a meeting with you as soon as you contact us, where we will discuss the idea for your app, goals, and expectations from the app.
Then within seven working days, you will receive the estimation of the app costs and proposed workflow. We will begin the project immediately after you approve the price.
The Bottom Line
Every project is unique, and the type, scope, number of platforms, APIs, etc., define its cost.
So, getting an exact software development cost will require much deliberation between you and your development team.
Besides the non-technical factors that affect the cost of building an app or software, working with the right team is also essential.
Scimus has a wealth of experience building custom web solutions that boast remarkable design, robustness, usability, accessibility, and accurate software development prices.
Contact us today; let's make your project intergalactic