Tech Lead vs Engineering Manager: Key Differences, Role in Team, Goals, and Skills
The tech industry has various ambiguous designations whose roles and responsibilities overlap.
Tech Lead and Engineering Manager are two such job titles that are often mixed up. Even though both professionals will undertake similar roles, their focus differs.
This article digs deeper into the difference between a tech leader and a software manager, highlighting their responsibilities, goals, and skills. We will also share how to determine your company's perfect fit, and how Scimus can help you find the ideal hire.
What is a Tech Lead?
A technical lead is a professional, mostly a senior developer, who is tasked with managing a software development team. They oversee the development tasks and are actively involved in the coding and software quality assurance processes.
What Does a Tech Lead Do?
While the responsibilities of a technical lead will vary from one company to the other, there are certain roles that remain constant.
Since they transition from a technical position into their current role, tech leads must be great programmers – and actually code a good amount of time during the development process. With an excellent understanding of how to write code, they can provide technical solutions that contribute to the product's success.
Considering professionals best suited for the lead position are seasoned software development gurus, they are expected to mentor junior developers.
For starters, they will regularly conduct code reviews and have discussions during and after the sessions. Here, they will share feedback and advice, which pushes the mentees to improve their codes and level up. They will also lead team meetings where workers discuss project updates and requirements, and other development-related issues.
Leads take a hands-on approach, analyzing the team's performance every day.
A person ideal for the tech leadership position oversees the creation or reengineering of the product, designing, testing, up to deployment. So, they need to have an in-depth understanding of the product, its specifications, and client requirements.
Additionally, they are at the forefront of sharing valid product ideas with their team since they have an expert understanding of coding best practices as well as mobile and web programming services.
With such expertise, they can quickly identify when developers are sacrificing quality, the presence of bugs, and how well the product will serve its users.
A technical leader will ensure the smooth running of the overall development process.
They collaborate with other teams to ensure successful software deployment, will set milestones, and provide an estimated time-to-market.
They will also make sure the team upholds high quality and make strategic decisions that elevate the project.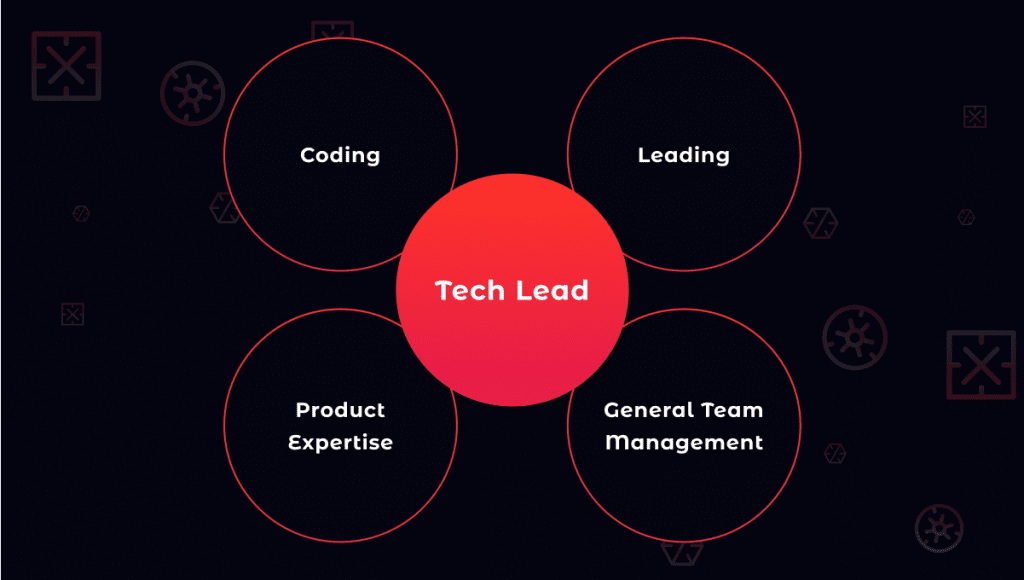 What is an Engineering Manager?
An engineering manager is responsible for supervising a development team. They do not need to have technical knowledge of coding but will propose budgets and coordinate the team and project.
What Do Engineering Managers Do?
Software engineering managers are tasked with multiple duties, depending on the organization that hires them. However, their main responsibilities include:
As much as managers might not have an extensive understanding of how developers actually build the highly intuitive apps that keep us glued to the screens, they understand how to effectively manage development teams.
Apart from taking advantage of advanced technologies to monitor the team's productivity, they will analyze the company services and practices, implementing the appropriate tactics to make sure employees perform their tasks to the best of their ability.
They will also stay on top of deadlines, making sure the client receives their product within the desired timeframe. If for some reason, the team cannot meet a deadline, the manager will share this information with the relevant stakeholders as soon as possible.
Even without extensive development skills, they will leverage their tech knowledge base to analyze the quality of projects before approval.
Want to develop a custom software solution?
Planning and Executing Strategies
Managers are expected to plan strategies and make sure they roll out successfully. They will turn plans into actions, effectively executing development processes to meet product specifications and client requirements.
And to do this, they will set clear goals from the get-go, define any crucial variables, and be actively involved in building a road map. They are also responsible for allocating tasks to the different team members, reassigning as needed in case unprecedented urgent requests come up.
Ensuring the General Well-Being of the Team
Do the developers have everything they need to deliver high-quality software? Are there any unnecessary distractions that might compromise the team's focus? Does the company have a well-organized schedule to ensure seamless communications within regular working hours?
These are only a few of the many questions that should remain top of mind if you are a software engineer manager. Making sure of the physical and mental well-being of teams is a surefire way to boost morale and create the perfect workplace environment.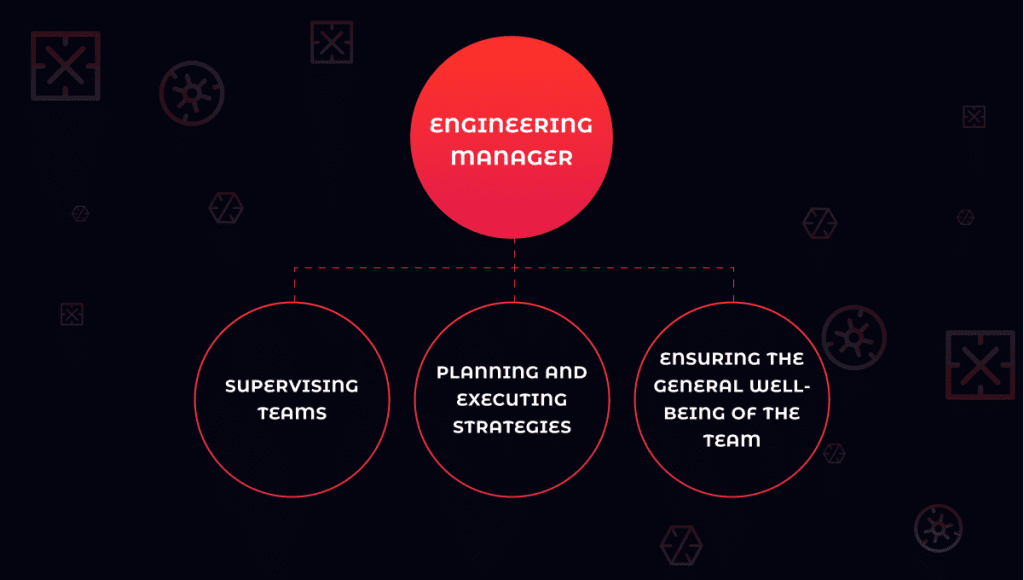 The Main Difference Between an Engineering Manager and a Tech Lead
The main difference between a leader and a manager is the latter is responsible for workers and the continuity of company processes while the former is tasked with handling development systems and infrastructure, as well as the actual coding process.
So, if you want an expert with the problem-solving skills to tackle technical glitches and issues that may arise during the development process, hire a team lead.
On the other hand, if your company needs a leader who will manage all teams, build a collaborative workplace environment, oversee product logistics, and stay on top of recruitment tasks when outsourcing software development, hire a manager.
Tech Lead vs Manager Goals
The goal of the tech lead is to produce highly-functional products that exceed client satisfaction. They achieve this by setting up architectural meetings to discuss the technicalities and progress of the project. They are actively involved in the development process, including coding programs, doing code reviews, testing, and ensuring developers have all the information and infrastructure they need.
Similarly, the goal of a manager is to ensure the team's overall success but will do this by prioritizing and delegating development tasks, creating a positive work culture, improving workflow efficiency, and hiring qualified candidates.
Want to develop a custom software solution?
What Skills Will You Need to Become a Tech Lead?
If you want a lead job at any company's technical department you need these skills.
Strong communication skills are vital when pursuing a tech lead career since you will be regularly discussing goals, and sharing updates and expectations with the team via verbal or written communication. As a mentor, you are also expected to regularly check in with your mentees, which calls for direct communication, among other things.
Tech leads oversee the technical development of software products. They will be in charge of the project from inception, through the coding and testing processes, up until deployment – all of which are tasks that require someone with exceptional project management skills.
Analytical thinking allows leads to make informed decisions, especially when development complexities arise. They will scrutinize the various possible solutions, choosing one that guarantees brilliant results.
What Does it Take to Be an Engineering Manager?
To take on a managerial role at a tech company requires numerous skills including but not limited to:
As a senior employee, the team will always look up to you to solve collaboration problems, development issues, and bottlenecks. Therefore you must know how to leverage your capabilities or that of the team members to handle issues fast before they escalate further.
Effective communication skills
Anyone in a managerial position must have excellent communication skills, whether verbal, non-verbal, or written. This allows them to communicate client and developer needs effectively, resolve disputes, and undertake negotiations in the right manner.
Maintaining a keen eye means quickly pinpointing things that colleagues may have missed, identifying the strengths and weaknesses of team members, and noticing tiny discrepancies in the code.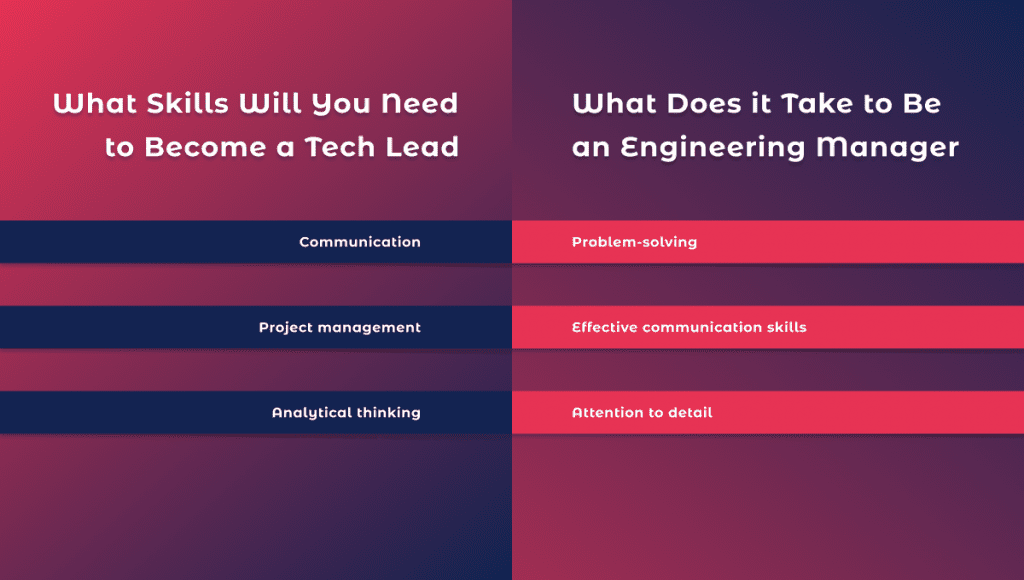 Which Should You Hire?
Whether to hire a lead vs a manager depends on your company's needs.
If you have several development teams, hiring an engineering manager to oversee the day-to-day running of the department is a great idea. The same applies when you want someone to boost employee productivity, help in talent acquisition and logistics, and schedule one-on-one meetings.
On the other hand, a senior lead would be a better choice if you want a professional who will oversee the team and still be hands-on during coding. This means they would be your company's best-suited expert if you need to improve the quality of software products or address bugs. Additionally, they would be a great addition to your team if you are looking to build a robust tech infrastructure as well as mentor junior developers.
To Sum Up
We can all agree that there is a very thin line between both these management and leadership roles. Although they are rarely used interchangeably, it's understandable why many companies are often unsure which one to choose.
But Scimus can help.
We are a software development company that leverages cutting-edge technologies to deliver best-in-class applications and websites. As experts in offering custom app and software development services, we have gained substantial knowledge of the roles and duties of a tech lead vs manager. Our experts are always eager to explain the difference and define job requirements for both professionals, to ascertain that when you outsource your development tasks to us, we will provide the right talent for your organization.