How Much Does It Cost To Develop an App in 2023?
Do you know that there are 15.9 billion mobile devices in the world today? Little wonder the demand for mobile app development is on the rise.
In fact, as of the last count, the Google play store and iOS store have over 7 million apps between them, and this number is expected to grow in the coming years as more businesses invest in mobile software products to engage their customers.
If you are thinking of creating an app for your business, one of your major questions would be "how much is app development?"
While the average app development costs can vary greatly depending on the scope and complexity of the project, there are some general industry trends that can help us get a good idea of the amount of capital involved.
So, how much does it cost to develop an app? Read on to find out.
App Development Cost Factors
There are many factors that come into play when discussing the cost to develop an app. Let's take a closer look at some of these factors.
Size of the development team
When it comes to the size of the development team, it is important to consider the number of people that will be working on the product as well as the roles that they will play. A larger team will generally result in a higher cost, but faster turnaround time.
Location of the development team
The location of the development team can also impact the cost of making an app.
Teams in high-cost-of-living areas, such as San Francisco or New York, will often charge more for their services than teams in other parts of the country. Luckily, there is a solution to this. Software development project outsourcing can give you access to a global talent pool at budget-friendly rates.
The complexity of the application
Design complexity is another important factor. The ​​cost to create an app is lesser for a simple, straightforward product with a limited number of features. A complex one with many features will cost more. The degree of complexity also impacts the turnaround time, which in turn affects the cost.
The operating system of the mobile device
Apps developed for iOS devices tend to be more expensive than those developed for Android devices. This is because developing an iPhone app requires a different set of development tools and skills than those for Android devices.
App features and functionalities
Features and functionalities also play a role in determining the cost of development. More complex features and functionalities, such as online payments and 3rd party integration, will add to the cost.
Backend infrastructure
Finally, your total budget will be impacted by the need for backend infrastructure. This includes the cost of setting up and maintaining servers, databases, and other tools necessary to run the software.
App Prices by Complexity
To give you an idea of how complexity affects the price of an app, we've put together a quick overview of some common app types and their average prices, using $55 per hour according to Talent.com at 40 hours a week.
| | | | |
| --- | --- | --- | --- |
| Type of app | Description | Average price $ | Timeline |
| Basic | Essential features, basic user interface, fewer screens. | 18,000 – 27,000 | 2 – 3 months |
| Moderately complex | Advanced features, custom UI, notifications, and messaging features. | 36,000 – 53,000 | 4 – 6 months |
| Complex | Multi-functional product, 3rd-party integration, media processing, multiple screens. | 80,000 + | 9 months + |
Some data sources give $150/ hr as application prices, especially in expensive cities in the USA.
Want to develop a custom software solution?
Development Costs by Application Platform and Technology
Developing a software product can be done using various platforms and technologies. While each one has its own set of advantages and disadvantages, the costs also differ. Here's a look at the costs associated with creating development for different platforms and technologies.
iOS Vs. Android
When it comes to development costs, at $60.10/ hour and $58.79/ hour for iOS and Android respectively, the costs are fairly evenly matched. Both platforms require developers to pay for a developer account. For android developers, this is a one-time fee of $25. For iOS developers, it is $99 per year. Enterprises must pay $299.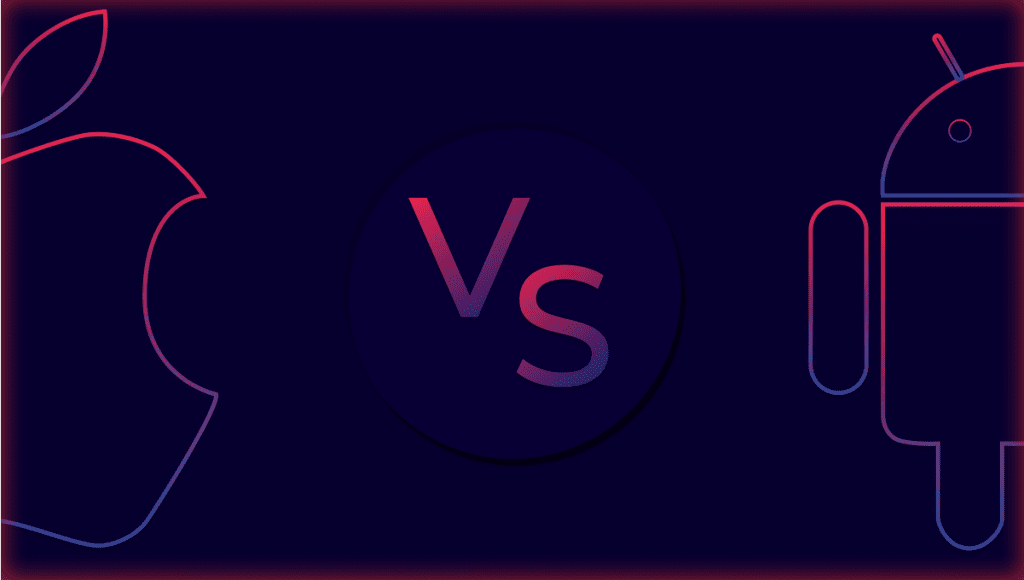 Web App Development
Web applications are typically simpler and easier to design than smartphone apps, but they provide fewer features. At $46.25/ hour, they are less expensive too.
Web app development is done using a combination of HTML, CSS, and JavaScript, which can be easier to work with than the range of languages (PHP, NodeJs, C/C++, and others) and tools used for mobile development.
Native Vs. Cross-Platform Development
Native app development is usually more expensive than cross-platform development, as it requires developers to create separate versions of the product for each platform.
Cross-platform development, on the other hand, allows programmers to create one version of the product that can be used on multiple platforms. This can be a more cost-effective option.
Costs by App Type
As we have already established, the cost of creating an app is an important factor to consider when starting a development project. To help you understand how it works for different categories of products, here's a quick rundown of the popular types of apps, their estimated timeframe, and their associated costs:
| | | |
| --- | --- | --- |
| App Type | Expected Cost | Timeframe |
| Restaurant/ Food Delivery | 40,000 – 150,000 | 900h |
| Retail App | 50,000 – 150,000 | 1,200h |
| Business App | 50,000 – 200,000 | 1,200h |
| Social Media | 50,000 – 300,000 | 1,200h |
| Dating Platform | 50,000 – 350,000 | 1,400h |
| Taxi App | 50,000 – 400,000 | 1,600h |
| Healthcare App | 55,000 – 300,000 | 1,200h |
| Learning App | 60,000 – 225,000 | 900h |
| Gaming | 60,000 – 250,000 | 1,600h |
| eCommerce App | 60,000 – 250,000 | 1,600h |
| Video Streaming | 80,000 – 300,000 | 1,600h |
Want to develop a custom software solution?
Again, remember that these are just estimates – the actual cost will depend on a number of factors, including: 
The number of screens
The level of customization
Social / email login
The kind of data your product will store
3rd party integration
Location data
Online payments
Data synchronization
Push notifications
Level of security
Data analytics
Backend management
Depending on what you choose out of the list above, the total can add up or reduce. That said, this should give you a general idea of what you can expect to pay for different software products.
Cost of App Development by Region
Generally, app development price varies from region to region, so it's important to think about where you want to develop your product before starting the process.
For example, you can expect to pay less in India than you would in the United States. The table below shows you the average cost to hire an app developer by region.
To get the per-hour rate, multiply the number of working days in a year by the number of hours worked each day (8 hours for a full-time employee) (250 days in 2023). Then divide that result by the yearly salary.
| | |
| --- | --- |
| US/UK/AUS | Rates per hour in USD |
| United States | 48.4 |
| United Kingdom | 36 |
| Australia | 42.2 |
US/UK/AUS
| | |
| --- | --- |
| Western Europe | Rates per hour in USD |
| Germany | 36.5 |
| France | 37.1 |
Western Europe
| | |
| --- | --- |
| Eastern Europe | Rates per hour in USD |
| Ukraine | 29.9 |
| Poland | 35.6 |
Eastern Europe
| | |
| --- | --- |
| Southeast Asia/ India | Rates per hour in USD |
| India | 24.4 |
| Singapore | 35.7 |
Southeast Asia/ India
Salary data from Arc Dev.
Of course, these figures are estimates and will likely differ based on factors like a programming language, the app developer's qualification, and the project's complexity.
Cost Breakdown Checklist to Develop an App
To help you get a better understanding of the development process, we've put together a checklist of all the things you need to consider that will affect the average cost for developing an app.
This development cost breakdown will help you get an accurate estimate for your project.
Factor
Description
Average cost/ hr in USD
Team location
In-house
Freelance
Outsourcing
$105-167/hr
$61-80/hr
$41-81/hr
Mobile platform
iOS
Android
Cross platform/ hybrid
$60.10/ hour
$58.79/ hour
$53.61 /hour
Development process
Discovery phase
UI/UX design
Development
Testing
Deployment & support
$5000 – $25,000
$5000 – $50,000
$5000 – $100,000
$5000 – $25,000
$5000 – $25,000
Source – Clutch
Additional expenses
App and play store charges
Fee for third-party integrations
Admin & marketing costs
$25 to $99
$800 to $2,000+
$10,000
Again, it is important to emphasize here that these figures are estimates and may likely differ based on the unique characteristics of your project. 
Want to develop a custom software solution?
Outsourcing or In-House Developers: What Should You Choose?
There's no one-size-fits-all answer to this question. It all depends on your company's specific needs and goals. However, there are some pros and cons to both outsourcing and in-house development that you should consider before making a decision.
Outsourcing:
You can get access to a larger pool of talent.
It can be less expensive than in-house development.
You can get the project done faster.
Possibility of communication and timezone challenges.
In-house development:
You have more control over the project.
You can build a more cohesive team.
It can be more expensive than outsourcing.
The project might take longer to complete.
If you're looking for more control over the development process, then in-house developers might be the way to go. But if you want to save money and time, and gain access to a wider pool of talents suitable to your project needs, then outsourcing app development is the better option. However, it's important to make sure you partner with a reputable and trustworthy outsourcing company.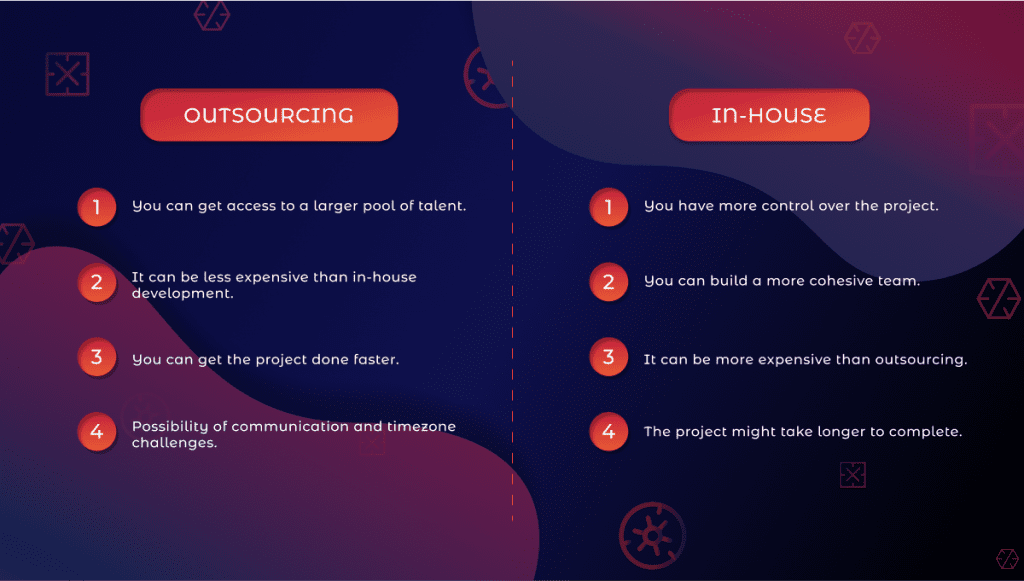 Is There Anything Else You Need After Your App is Created?
Now that you have your product built, there are certain costs that may be necessary in order to keep it running smoothly.
Let's take a closer look at each of these:
Maintenance and Support
Support and app maintenance costs can vary depending on the size and complexity of your product. However, it is important to budget for these costs as they can help to keep it running smoothly and ensure that any bugs are fixed quickly.
Mobile App Testing
Software QA is another cost that you may need to consider. This is because it is important to test your product on a variety of devices and operating systems to ensure that it works correctly.
Post-Production Costs
Finally, you will need to add post-production expenses to your app building cost. These can include things like marketing and advertising, as well as providing customer support.
We have provided estimates for these costs above. By budgeting for these costs, you can help to ensure that your product is successful.
Saving on Application Development: Useful Tips
As you can see, the cost of building an app can be significant, but there are some practical ways that you can reduce the costs.
1. Set your project goals.
Before you even start to think about building anything, you need to have a clear idea of what your goals are. What are you trying to achieve with this product? Once you have a clear understanding of your goals, you can start to put together a plan for how to achieve them. This will help you to avoid any unnecessary costs along the way.
2. Put together a detailed product specification.
Another cost-cutting tip is to put together a detailed product specification. This document should outline all of the features and functionality that you want your product to include. Once you have this document, you can use it to get accurate quotes from different teams. This will help you to find the most cost-effective solution for your project.
3. Choose the right team.
Choosing the right team is crucial to keeping the costs of your project down. Make sure to do your research and compare different teams before making your final decision. If you are looking to access the best talents from a global pool while saving costs, then outsourcing is your best option.
4. Create an MVP.
Creating an MVP (Minimum Viable Product) can help you save money. This version should include all of the core features and functionality, but it doesn't need to be perfect. Launching your MVP as soon as possible will allow you to test it out with users and gather feedback. Based on the feedback, you can then add more features. Make it cross-platform too, so you can save using a single codebase.
Our Approach to Cost Estimation
As one of the fastest-growing custom software development companies in the industry, we get a lot of questions about how we estimate building an app cost. We consider two factors in our approach here at Scimus.
The first factor is the scope of the project.
How many features does the product need?
What platforms will it be built for?
The answers to these questions will give us a good starting point for estimating the overall cost of the project.
The second factor is the timeline. How soon does the client need the product? Rush projects always come with a higher price tag, so we always try to work with our clients to find a timeline that works for both parties.
Once we have these details, we can come up with a no-obligation estimate for you.
Need a Hand Creating Your Own App?
Hopefully, this article has been able to answer your questions about creating an app cost. You can use this information to create a budget for your own app cost.
That said, if you're looking to get an app made, it's best you get started as soon as possible as prices are going to rise as time goes on. Luckily, Scimus is here to help you get your project off the ground.
We provide bespoke web development services and software development to help you make your dream product a reality.
Contact us today to get started!